We
did
celebrate Halloween, of course.
And despite it being one of our most favorite times of the year AND despite the fact that the boys had some of their most favorite pals from school join them for trick-or-treating, we still were rather sloppy on the photo ops. Pretty sad, I say.
The one still shot we have of our big skeleton, little skeleton, and Harry Potter.
...and now they're movin'
loving the little skeleton's pose here...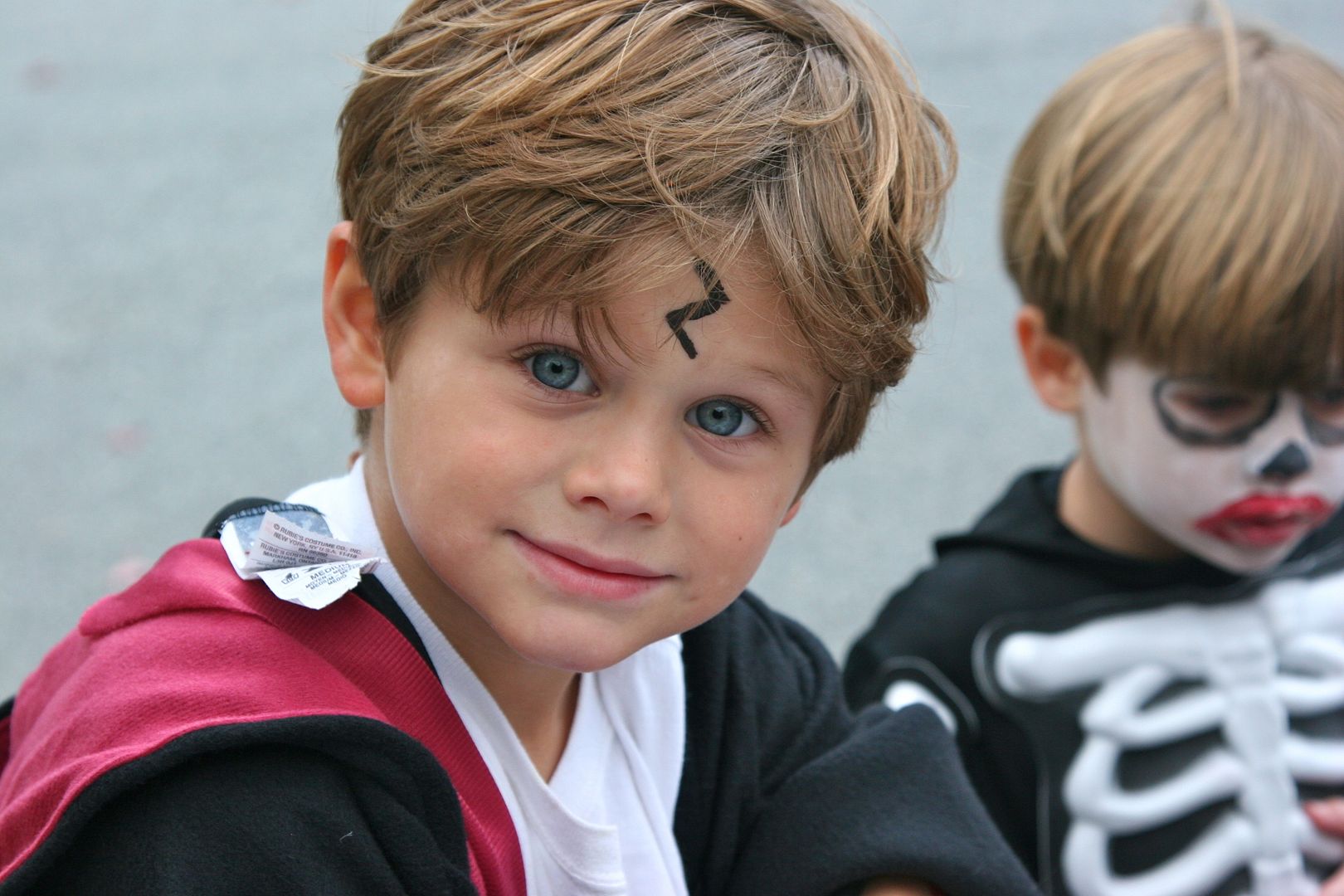 Our Harry Potter had misplaced his wand and glasses by 6 p.m. on Oct. 31.
The baby skeleton was more interested in his face paint than anything else...
...that spiders-on-the-house trend this year?
A) uber-creepy, and B) uber-hard to do...
And with that, we return you to regular Autumn photos.
The boys unearthed a jumprope in the garage and have attempted to master it. They are boys, you know, not girls. Jumping rope is challenging.
the serious, pre-jump face. Don't worry; he's got this.
Way too much effort involved here, no? Since this night, the jump rope has been relegated to many tasks (stuffed animal-dangler, brother-lariat, bicycle tether), none of which involves primarily jumping.
For those of you who are concerned, Digger the Gerbil is still thriving:
And lastly, a concession on my part. Our boys have never, ever slept in our bed (ok, maybe Theo did when he was a tiny infant and nursing and wide awake at 4 a.m., but exhaustion is debilitating, people...).
Jack's new thing--a habit I willingly admit I embraced this summer at the beach--is to read in bed with me when Russ is out of town. Quite often, I'll have to go re-tuck in another child or let a dog in (or out) and when I come back to my bed, this is what I find:
Like I can kick him out.
He doesn't snore (or wiggle).
Neither does Dog.
So now, Jack, son of an English major, pushes the envelope and asks to read in my bed most nights. It's hard to say no. Last night, he and Dog listened to Mama B's Nat King Cole cd as they plowed through more of the 5th book in the Percy Jackson series.
I mean, really. Could an English major's heart soar higher?
Farewell October.
Welcome November.
Read on, Friends.